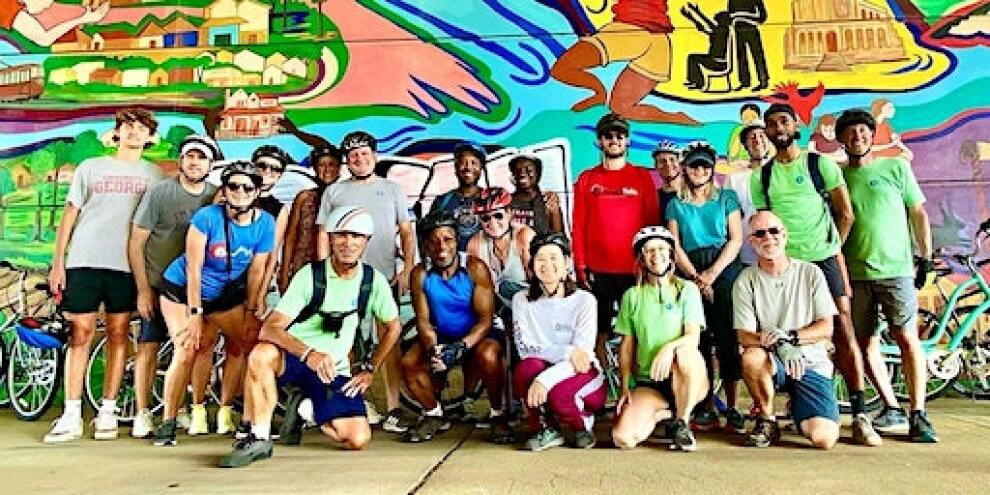 Atlanta Beltline Bike Tours – Westside Trail (Summer/Fall Season)
From the place:
Enjoy an invigorating bike ride and fresh air while discovering one of the BeltLine's most popular trails.
About this event
Start your Saturday off right with an invigorating 3-hour, 11-mile bike ride on the Atlanta BeltLine Westside Trail. Enjoy the crisp air and cool morning temperatures as your knowledgeable guides lead you on a tour of the incredible Westside Trail and the historic Atlanta neighborhoods it passes through.
Tours start and end at the Lee + White development on White St. in the West End. Ample free parking is available. After the tour, feel free to stay and enjoy the many amenities Lee + White has to offer.

Tours are led by trained volunteer guides who are knowledgeable about the Atlanta BeltLine project and the neighborhoods the trail passes through. There's also a sweep trailing behind, making sure the group stays together. The guide and sweeper are experienced cyclists well versed in safety and bike etiquette.

Participants must be at least 13 years old (unless strapped into a child seat attached to an adult participant's bike), comfortable riding a bike, and able to complete an 11-mile course with multiple stops on relatively flat ground. There are a few medium sized hills to manage.

Tours begin at 9:00 a.m. sharp and end around 12:00 p.m. Please plan to arrive no later than 8:45 a.m. to check in. People renting bicycles must check in before 8:30 am.

The cost of the tour is a $10 donation per attendee to the Atlanta BeltLine Partnership. If you would like to participate but cannot afford this donation, please contact us at info atlblp.org.

Bike and helmet rental is available for $35 per participant. The bikes are delivered and picked up at our starting/finishing point. Contact our bike rental partner, Clutch Bike Shop, directly for more information at 404-594-4205. Tell them you're signing up for an Atlanta BeltLine bike tour. Please note that if you are renting, you MUST make your own bike rental reservation directly with Clutch by 4pm the day before the tour.

Group size is limited to 20 participants. You can reserve up to 4 places per reservation.

All tour participants must complete an Acknowledgment of Liability Waiver. If you are registering for more than one person, you MUST provide the names and email addresses of those additional participants when you register, and complete the Acknowledgment of Liability Waiver on their behalf, for the registration to be valid.

We will provide each tour participant with a single 24 oz. water bottle from our bottled water partner Positivity Water. Please bring any additional water and snacks you wish during the tour.

There are several stops during the tour where your guide will share information with you.

Tour highlights include the Atlanta BeltLine Arboretum, Westview Cemetery (entrance only), Westview Shopping District, Washington Park, Murphy Crossing, Aluma Urban Farm, and multiple Art on the Atlanta BeltLine installations. The tour also includes the recently opened westernmost portion of the Southside Trail. There is a restroom stop halfway through the tour.
Cancellation Policy
Atlanta BeltLine Partnership understands that money is precious and circumstances can cause plans to change. We want to work with you wherever possible. We also plan our event resource planning based on a solid understanding of the number of runners we expect. Based on these considerations, we have adopted the following refund policy:
A refund of the donation is permitted if an attendee submits a cancellation request to John at atlblp.org by 5:00 p.m. THURSDAY BEFORE THE EVENT.

An attendee may transfer an existing registration (instead of canceling it) by contacting John at atlblp.org by 5:00 p.m. THE THURSDAY PRIOR TO THE EVENT.

In case of cancellation due to bad weather, event participants can request a refund of the donation.
Atlanta BeltLine Bike Tours is a program of the Atlanta BeltLine Partnership, the non-profit organization that works alongside Atlanta BeltLine, Inc. to provide the complete Atlanta BeltLine view. Thank you to our generous program sponsors, Empire Communities and Northside Hospital, for their support of our public bike tour program.
Key words

United States EventsGeorgia EventsThings to do in Atlanta, GAAtlanta ToursAtlanta Sports & Fitness Tours#cycling#beltline#biketours#atlantabeltline#westsidetrail

Share with friends

Share on Facebook

Share on Facebook Messenger

Share on Linkedin

Share on Twitter

Share by email