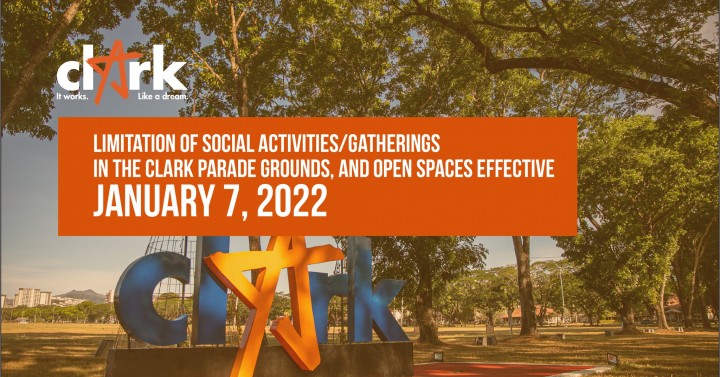 Clark Freeport imposes limited gatherings and activities
CLARK FREEPORT, Pampanga – The Clark Development Corporation (CDC) began banning large social gatherings and activities in this Freeport on Friday through Jan. 31 in response to rising cases of coronavirus disease 2019 (Covid-19).
A notice issued by the CDC said all social gatherings of three or more people are not permitted in the Clark Parade Grounds, open areas and other Freeport parks.
In addition, only fully vaccinated people are allowed to engage in individual physical activities such as walking, jogging and cycling, among others.
Other standard health protocols issued by the Inter-Agency Task Force for the Management of Emerging Infectious Diseases (IATF-EID) will still be applied in the Freeport.
Clark's tourism-related establishments have also been told to only accept fully vaccinated people at 50% capacity indoors and 70% outdoors.
Minors not qualified for vaccination are also strictly prohibited in the area.
CDC President and CEO Manuel R. Gaerlan said they are taking additional measures to ensure the safety of all Freeport stakeholders amid rising Covid-19 cases in the country.
"The public is urged to cooperate and exercise restraint as Clark Development Corporation works to keep Clark Covid free and area business buoyant. Mag-ingat po tayong lahat," Gaerlan said in a statement.
Earlier, the CDC urged its workers, locators and visitors to remain vigilant and continue to meet minimum health standards in the face of the emergence of the Omicron strain in the country.
The public company also reiterated the importance of wearing face masks, proper hand washing and physical distancing to prevent the spread of the virus. (NAP)