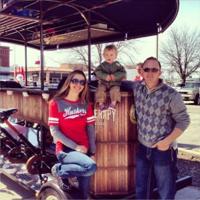 Group Therapy Bike Tours puts a new twist on city tours | News
Twenty feet is better than two.
Drew and Katie Philippi, owners of Group Therapy Bike Tours, recently introduced their brand new Lincoln attraction, a cart-like bike that travels five miles per hour, can do any custom tour, and is powered by a group effort pedaling.
About a year and a half ago, Drew, who also operates Landscape Curbing with Katie, was researching vacation spots and found a traditional 'Bier Bike' in Amsterdam. The bike contained a wooden keg in the front for its passengers to drink from.
Drew and Katie decided it would be fun with a different twist. Open container laws prevented the cask aspect, and the couple wanted to appeal to all ages – not just those of drinking age.
Then the Philippis heard about the new arena at Lincoln's Haymarket.
"We looked at each other and were like, 'If we're going to do this, now is the time,'" Drew said.
After some research, the Philippis found Cycle Pub, a business in Bend, Oregon. James Watts, the company's founder, built his own version of the bike. Drew said his bike has 14 seats, 10 of which require his passenger to pedal. While the driver, usually Drew, can oversteer the bike, the passengers pedal together to keep the bike powered. The bike can be rented for two hours for $280, or $20 per person.
Facing each other, being out in the open and making a group effort to keep the bike going creates an experience of its own, Drew said, which is part of why the company earned its name.
"It's hilarious and fun," he said. "I can almost guarantee you'll walk away feeling invigorated."
Post-construction changes to the arena will allow open containers in an "entertainment district" in the Haymarket, and the Philippis hope this will also allow passengers to bring booze onto the bike to enjoy between stops.
"I don't want to speculate one way or the other," Drew said, adding that local officials would neither confirm nor deny whether the laws would work in favor of the motorcycle.
Either way, he said, his hopes will not be disappointed.
"If that doesn't happen, it doesn't hurt our business," he said. "We will live to ride again."
Not all the publicity for the bike has been good, Drew said. On the 1400 AM/94.5 FM KLIN morning talk show, Jack Mitchell and Dave Miller discussed the concept of Group Therapy Bike Tours.
While some said it was just another legal form of public drinking, others defended the bike, saying it would be safe and fun.
"There's a reason our name isn't 'Beer Bike' or 'Pedal Party' or 'Cycle Pub,'" Drew said in a statement posted to the radio station's Facebook page. "We chose to brand our company to be more open-minded to alternative demographics."
One example, Drew said, is a birthday party already booked for a 74-year-old man. He said the bike could also celebrate a birthday party, and although the Haymarket is the main hangout, the bike could go anywhere for local tours, as well as outside of Lincoln. He has previously been invited to parades in Milligan, about 60 miles from Lincoln, and Shickley, more than 80 miles from Lincoln.
Drew said he has since given Mitchell and Miller their own free bike ride, which the radio hosts happily took.
Last Saturday, the bike debuted to family and friends, and then toured TMCO Inc., Drew said. One of the touring fans was the Philippis' 18-month-old son, Nash.
"He had a blast," Philippi said. "We promoted Nash to CEO of Group Therapy."
A friend of Philippis, Tyson Frazen, also enjoyed the new attraction.
"Everywhere we went people were watching, taking pictures and smiling," he said.
Katie's sister, Rachel Swarts, also enjoyed the new attraction.
Despite the typical two-hour tours, she rode the bike all day, she said. She called the bike an adventure for her sister and brother-in-law, and loved that it allowed passengers to be outdoors.
"You could use it to celebrate anything," she said. "Lincoln can always use another attraction."