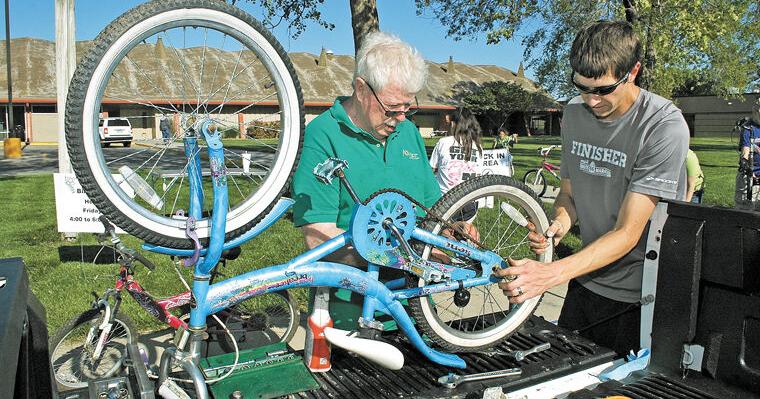 Host of planned activities for Kite and Bike Festival | Derby News
It's time to dust off the kites and bikes for a family event to celebrate Bike Month. The Derby Recreation Commission and I Bike Derby prepare for their annual kite and bike festival.
It may only be a few days after National Bike Month, but that doesn't take away from the festival's purpose, which is to educate about bike safety and celebrate the many bike routes that the city has to offer.
"I think the event is very unique," ​​said Ashlynn Godown-Schenker, DRC program coordinator. "It's an event that lets people enjoy one of our great parks in Derby. There's the opportunity to see stunt kites and make your own for free, plus cycling activities for all ages It promotes multiple ways to hang out with your family and have fun.
The festival offers several family events and kicks off the summer of activities around Derby on June 4 from 1-4pm.
The festival kicks off around 9 p.m. on June 3 with the Light the Night Family Bike Ride. Participants are encouraged to decorate their bikes and ride the High Park trails.
On June 4, there is a full day of activities for all ages, which will include several different events scattered around the park.
Need a quick tune-up on your vehicle? The Derby Health Collaborative and the Derby Bike Month Committee have teamed up to help carry out free minor repairs to the bikes to ensure they are in good working order. Minor repairs will be done on site, but larger repairs could be taken to a local bike shop. Repairs will be available between 11 a.m. and 1 p.m.
Participants can show off their bikes during the Bike Showcase Parade. People are encouraged to bring unique bikes and can decorate themselves and their bike. Anyone can participate in the parade around the park.
Even though there is no yellow jersey at stake, at 2.30pm you can join the peloton of cyclists for the "Tour De Derby" around town on a 10 mile ride. A smaller portion of the event will be available and will remain within the boundaries of High Park.
Children from kindergarten to eighth grade can prepare for bike races. There are one-mile, half-mile, and quarter-mile races depending on grade level. Rewards will be given to the best finishers of each level. There will also be areas designed to educate children on important cycling and walking safety lessons.
The bike is not really your bag? No problem, as there are several activities available, from kite flying to various crafts. There will be several options such as building a kite, face painting, balloon animals, remote control planes, and designated areas for kites of all shapes and sizes. Food trucks and other Wichita-area vendors will also be on hand.
Cody Friesen is the Derby Informer's sports editor. Reach him with sports tips at [email protected] and follow @Derby_Sports on Twitter for the latest updates.