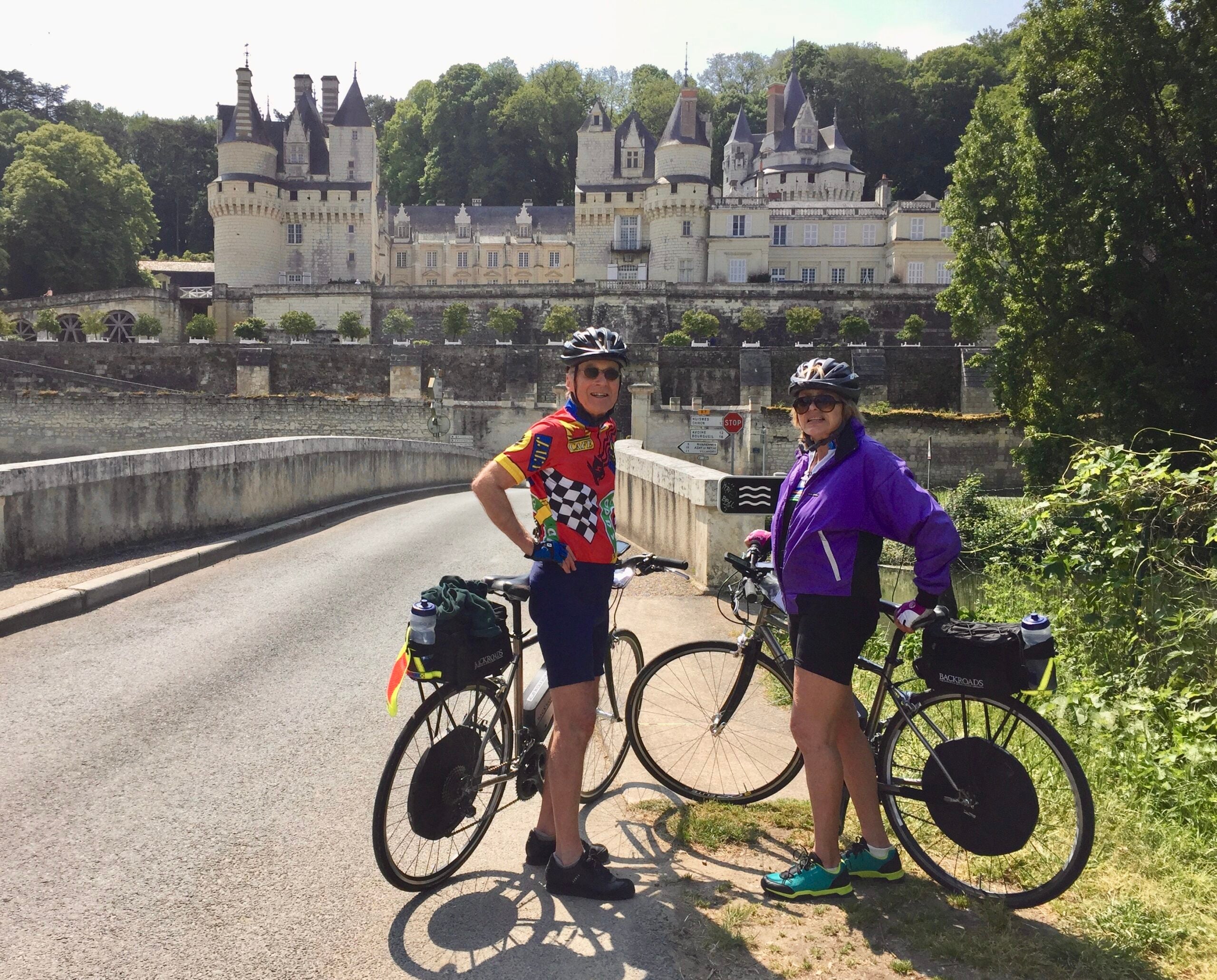 How modern technology has opened international bicycle tours to all ages
Travel

The hill was short, but steep. Very stiff. So stiff that we could see the leg muscles of our 49-year-old son in front of us swell, tense against the pedals. The back of his bike shirt was black with sweat and he was leaning over the bike handles, giving his all on the steep incline to our castle, working the leg muscles he had conditioned over several weeks on his fanciful exercise Peloton cycling home.
We didn't do any special conditioning for this European bike trip. We do not have an exercise bike. One of us, the father, was 80 years old, the other — the mother-in-law — was . . . well, old too.
The steep hill ahead was a killer. It would require our full attention. We both pressed the same button on our handlebars, the one that gives maximum power. We could feel the instantaneous thrust of our pedals, the force of a magical, invisible hand pushing our bikes from behind.
The thrust of our shriveled old leg muscles pumped the pedals, propelling us effortlessly up the steep slope of the hill without delay, passing our sweaty, laboring son halfway to the summit.
We waved at him as we passed on our e-bikes.
Five years ago, when we hit our mid-70s, we assumed, sadly, that our cycling days were over. We were over the hill, so to speak, when it came to this activity. More of those luxury bike tours we had taken in Europe and California, and enjoyed so much. In all we had made 12 of these trips, writing about each of them for the Globe Travel section, providing material for a book we published two years ago: 'Thirty Years on Two Wheels: A Biking Odyssey' .
From now on, we thought that our trips on two wheels would be limited to pedaling on the sidewalk to the local library. Our clip-on bike shoes and padded bike shorts could be swapped out for sweatpants and bedroom slippers.
Earlier this year, when someone turned 80, our adult children surprised us. "Happy Birthday Dad," they shouted, "We're taking you on a bike trip and we're taking you on the ride." (We've never taken them cycling with us before.) "Anywhere in the world. You choose, we'll pay!"
And that's what we've done. We chose and went. . . and in the end we also paid their way. What are parents for after all? It was the best birthday present we have ever given ourselves.
Choosing where to go was not easy. With great anticipation, we sifted through all the possibilities in the bike catalogs, studying the photos, weighing the pros and cons of each: Havana to Santiago? St. Petersburg to Stockholm? Hanoi to Angkor Wat?
Hanoi to Angkor Wat? At 80? Contemplating his squeaky back, rotting hearing, questionable balance and clogged artery (doctors had told him he had one the year before), the birthday boy snapped back to reality. "And the Loire Valley? he asked plaintively, an executive decision.
And so it was at the end of May that we all celebrated his birthday by cycling through the beautiful terrain of the Loire Valley in Tours, France, and west along the river, with its fabulous castles, flowers , its birds, its castles and its crème brûlée.
It was the same month 34 years before that we took our first cycling trip, also to France, but this one was through the lush vineyards of Bordeaux. Much has changed in the world in those 34 years – but not, it turned out, the sheer joy of cycling down a narrow country road on a spring day in France, the smell of wet grass and mown hay in the air, the songs of birds in the undergrowth, the sight of white horses peering over a wire fence as you drive past.
Is there anything more soothing than leisurely pedaling along a deserted lane through a grove of young poplar trees early in the morning, the sun dappled the bright green leaves overhead, the silence broken only by the faint murmur of your tires on the dirt?
This first cycling tour of Bordeaux convinced us that there is no better way to see a foreign country (and we have seen many) than from a seat on two wheels, propelled by the thrust of your own legs. .
. . . Which brings us back to electric bikes. Our kids didn't want e-bikes, didn't need them. But we did, and did. They are the ones that allowed us to take this bike trip late in life, and we bless whoever invented them. It is a wonder. Their ciabatta-sized lithium batteries last a full day and pack enough power to help the rider (i.e. us) climb any hill at four possible speeds: slow, medium, faster and like a rocket. They make no noise, no smell and are barely visible on the frame – which leaves young studs in full racing gear wondering how two old geezers can leave them in the dust while pedaling on a steep slop.
Much of our cycling trip in the Loire was the same as the one we had done over three decades earlier in Bordeaux: the travel agency still made all the bookings for the five-star accommodations where we stayed (Château Prieuré , overlooking the Loire with a room the size of our Boston condo, comes to mind); the guides always took our luggage in a van every day to the next destination; the gourmet cuisine of the trip was still. . . well, greedy. We speak French, after all, what more can we say? (In white asparagus season, when we were there, French chefs would proudly announce on their menus, as if announcing a new baby in the family, "The asparagus have arrived!") have not changed either, they are still as imposing as ever (see the glorious Château de Chambord, this enormous Renaissance behemoth made up of 11 towers, three types of chimneys and a double spiral staircase). French flowers have not changed either. In the Loire Valley, dubbed the "flowerpot of France," the poppy fields that burst in mid-May are ever so red, and the misty blue bush of Ceonanthus, also known as California lilac, gave us a special joy with its fragrance and color.
But there was one thing about this trip that was different:
On previous trips, the guides have handed out each morning to each guest a map showing the recommended route to the overnight destination, along with detailed handout notes on what to look for – road signs, route numbers, landmarks, etc. – along the way. ("Take a right immediately after the red barn, continue on a dirt road for a mile, then watch the bike path on the left just before the old cemetery. If you pass a farmhouse with a green gate, you've gone too far . . . "
Following the map and the notes was like taking part in a giant treasure hunt, at the end of which ended a five-course dinner in a historic castle.
That was then.
Now, as we discovered, the map and notes have given way to high technology in the form of a GPS device. The first morning of the trip, we were each given one of the gadgets and told that was all we needed. More paper maps. Just follow the purple line in the little window and it would take us where we needed to go. Never get lost again.
And honestly, the pre-programmed systems worked perfectly – except when they didn't. And when they didn't, which happened quite often, panic and exhaustion followed.
There were two possibilities. They either posted a warning that we were "OUT OF RACE" – when we weren't. . . or they said we were "ON Course" – when it turned out we weren't either.
In the first case, we would run back to revise our turn at the previous intersection, only to find we had been right the first time and needed to get back on our course. In the second situation, we would cycle happily along the purple line until it led us (as it happened) to a dead end in the middle of dark woods. By then we were miles off the road and completely lost. To find our "home", we had to use another technology that was not available on our first bike trip: a cell phone. We were carrying one for such an emergency and called for help. One of our wonderful guides, who was looking for us in his van, eventually found us and took us in hand like old Hansel and Gretel lost in the forest.
Of course, our tech-savvy kids never had a problem with GPS and never got lost. When the trip was over, they carried our heavy luggage to the train platform in Tours and sent us to Paris with supportive hugs. In a way, the 80-year-old father and his elderly wife felt more like the children of the family than the parents.
But the two elderly people made it all the way back to Boston on their own, safe and sound, after six glorious days of cycling through one of Europe's most enchanting places.
Life goes on.