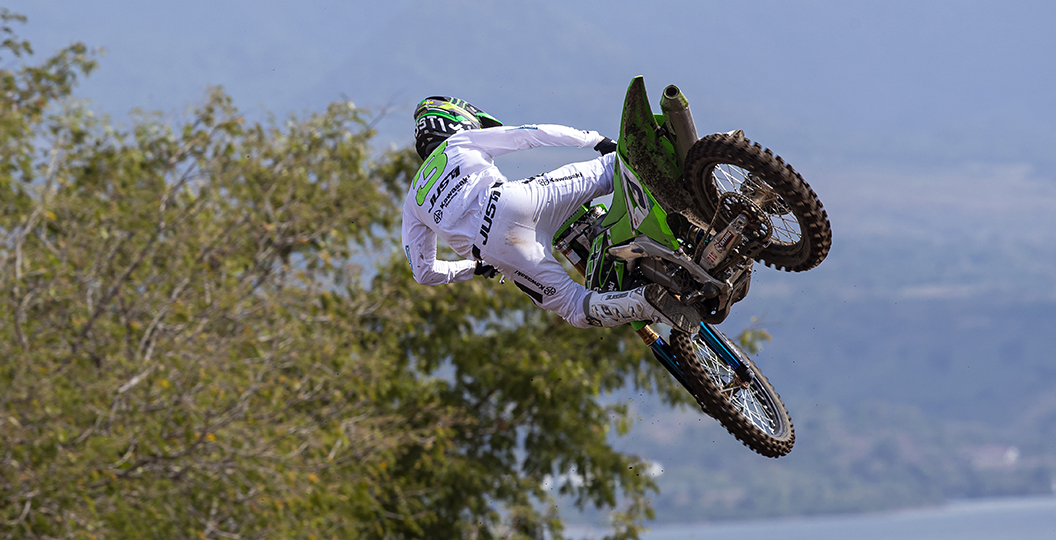 Indonesia Bitesize Ideas – MX Vice
The debate over foreign circuits cluttering the FIM Motocross World Championship calendar will rage on forever and, truth be told, Sunday's round in Indonesia would have only fueled that fire. Why is that? The Indonesian Grand Prix was a perfect example of the quality of an overseas event, but also of its seriousness. Confused? Yeah me too.
---
Words: Lewis Phillips | Main Image: Ray Archer
---
Let's start with the context, shall we? The races in Argentina and Indonesia have always been difficult for everyone. Neuquén has always hosted the Argentine Grand Prix and it consists of three flights for the most part (two to Buenos Aires and then a domestic flight to Bariloche, where the track is). Indonesia has followed a similar pattern in the past, regardless of the track, as it took two international flights to Jakarta and then one internal flight to Semarang or wherever the circuit was built. It was different though. Oh, that was so different.
Sumbawa Island isn't exactly considered a tourist hotspot, so flights to the island are limited. The inhabitants of the island have so little need to accommodate flights that the runway is only suitable for small planes. In short, it was impossible for everyone to have a commercial flight on the island and this meant that a charter flight had to be arranged. The remote location of Sumbawa meant that jumping from Jakarta, which would have been the most convenient, was simply not an option, so everyone had to board a domestic flight to Lombok and then another to Sumbawa.
The organization of said thefts was flawed at best. Everyone's done it, so it doesn't matter. Right? It was a great example of how stepping into the unknown can cause everyone unnecessary stress. Take my word for it: no one was in a good mood after those domestic flights. The tone quickly changed when the riders saw the track on Friday, much like how Neuquén won everyone over. It was a good reminder that these overseas races can produce good leads. It's strange that such a recall is even necessary, considering that Argentina are so good. Semarang and Palembang weren't exactly rubbish though.
This is a great example of how good touring abroad can be. I mean, nobody really liked the track once they raced there. Let's sweep this under the rug – it was still a pretty good lead. However, this raises a very interesting question. Are races abroad acceptable as long as the circuit is good? Can lack of entries, huge costs and travel nightmares be ignored as long as this box is checked? Runners will say yes, as many say it's the only thing they really care about. That was before food poisoning hit the paddock, to be honest, but that was still the general consensus.
Indonesia is not a place I would choose to travel to. I appreciate the finer things in life, rather than the bare minimum, but I can recognize the need to go somewhere in Asia. Manufacturers selling more bikes there than anywhere else are no myth and there are potential revenue streams for teams on the continent. MTX, the title sponsor of Steve Dixon's team, is based in Malaysia, so racing there is very important to him. KYT helmets come from Asia and they paid Romain Febvre very well for a few years. The thing is, this trip might be considered a worthwhile investment for some.
The crushing nub of the problem is that not everyone is capable of making such an investment and, truth be told, the problem goes deeper than that. The MX2 class was atrocious. Point blank. But who was really missing? Conrad Mewse, Roan van de Moosdijk, Hakon Fredriksen and Liam Everts would have been there had they not been injured. The best driver who was missing only because of a lack of support was Jan Pancar. Everyone can scream and shout about the lack of entries, but no one actually missed Pancar. This sport is so brutal for bubble guys. They get no respect or interest, for whatever reason.
Essentially, everyone wanted Pancar to fill a door – there was no other purpose for him to serve. There's no way anyone was thrilled that '253' made it to the starting line. Do you want to know what would have turned people on? There are a ton of Aussie wildcards in both classes (without looking at you, Lewis Stewart). Could something be done, like waiving the starting fee for the race, to attract riders like Kyle Webster and Todd Waters to the event? Yes, I know the Australian Grand Prix would be so much better. I say!
You know, a race in Australia would solve a lot of those problems. There would be wildcards, teams could save money by lending parts, there would be no need to take stuff like toolboxes, and there would definitely be a cool track. Someone like Jan Pancar could probably lend a bike and pack his suspension in a suitcase. I have a sneaky suspicion that some of the teams on the fence would also magically find money for an Aussie race. Yeah, call me crazy. Put it on the week before Indonesia and this event would suddenly get better too. Easier said than done, I know, as an Australian promoter needs to find the money to fund the event.
Anyway, back to the burning question. Does a good lead eliminate all other complaints? Maybe. I would say that is the case in a place like Semarang. There were no other concerns on this run as the accommodations were amazing and the flights were straightforward. Easy! Leading everyone on a rather chaotic charter flight and into filthy hotels did Sunday's Grand Prix a disservice, but the circuit and facilities saved it from being a huge disaster.