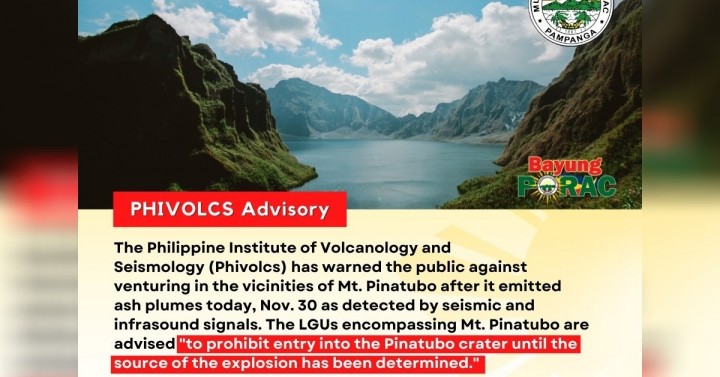 Pampanga town bans outdoor activities near Mount Pinatubo
CITY OF SAN FERNANDO, Pampanga – The mayor of the town of Porac in this province issued a decree on Wednesday banning all outdoor activities as well as venturing into the vicinity of Mount Pinatubo.
This, after the Pinatubo volcano network recorded seismic and infrasound signals from a weak explosion at Mount Pinatubo between 12 p.m. and 12:13 p.m. Tuesday.
The public is advised to refrain from approaching the volcano and from cycling, hiking, trekking and mountaineering in the six villages of Porac, Manuali, Sapang Uwak, Inararo, Villa Maria, Camias and Diaz.
Mayor Jaime Capil said the order would go into effect immediately.
"Everyone is advised to take precautionary measures and be aware of publications by the Municipal Government of Porac and the Philippine Institute of Volcanology and Seismology," he said in a social media post. .
Porac was one of the worst affected towns in Pampanga when Mount Pinatubo erupted on June 15, 1991, as parts of the volcano are located within the town. (ANP)