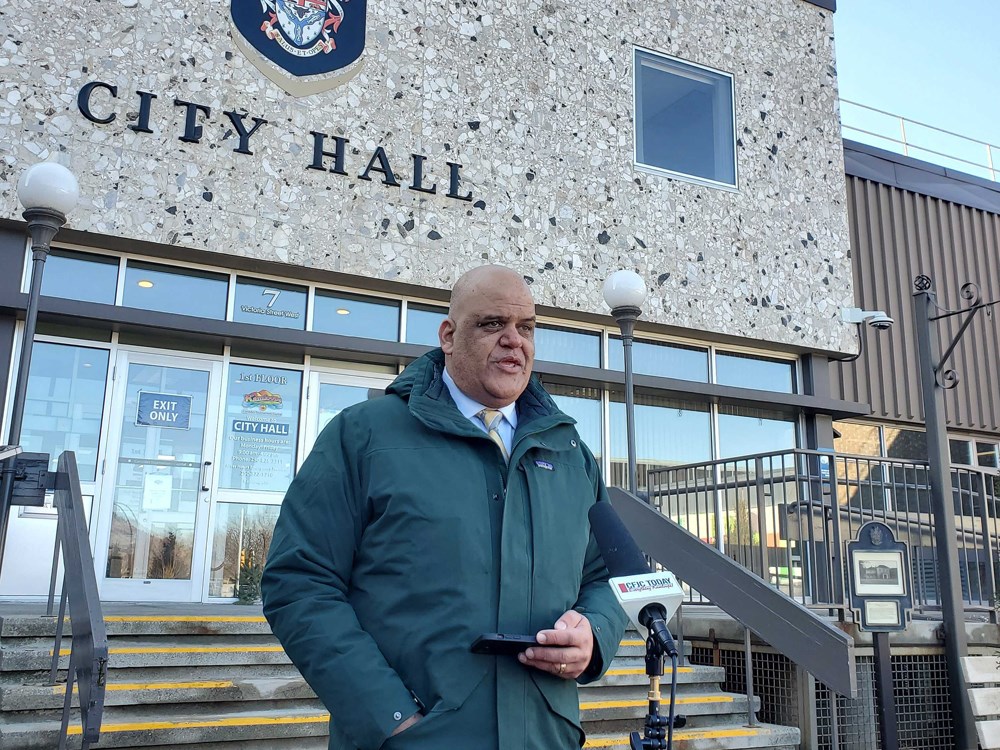 Singh's 10 'bold ideas for action' during mayoral campaign
Arjun Singh said he is also starting 100 community conversations, during which he hopes to receive ideas and have his platform reviewed by a variety of residents.
If Com. Arjun Singh was set to become mayor, he proposes cutting city grants for the Kamloops Center for the Arts project, revising discretionary spending at City Hall, holding monthly hours of operation and organizing a three-month festival for healthy, low-carbon transport.
Singh pitched campaign ideas Monday, April 25 at a press conference at Spirit Square in North Kamloops. Singh told reporters that he is also starting 100 community conversations, where he hopes to receive ideas and have his platform reviewed by a variety of residents.
Its platform, which will be finalized in August or September, ahead of the October 15 municipal elections, includes 10 "bold ideas for action". Singh said a mayor's job is to lead and come up with ideas, which he said should be based on innovation and evidence.
The business case for the arts center includes a municipal operating expenditure grant of $700,000 in the first year and reduced to $380,000 in the fifth year. Singh suggested space in the arts center for businesses as an idea to reduce the center's operating grant.
"I think as close to zero as possible," he said when asked how much the city should subsidize the running costs of the facility. "I mean obviously we subsidize. We are not looking to make money, but we are looking to keep taxes as low as possible. »
Singh pointed to rising taxes and costs for policing and emergency preparedness. He also proposes a review of discretionary spending at the town hall, which he described as "difficult", but "important". When asked what types of expenses should be reviewed and what such a review would look like, Singh said it would be a conversation between staff, council and the community, but he wondered. if residents wanted to spend $200,000 a year on tournament bidding and fund marketing budgets.
Singh is known to be a councilor who is readily available to the public, and he wants to set aside one day a month during office hours to hear from residents with ideas and/or concerns. He says he wants to promote the fact that the town hall should be open to everyone.
A proposed three-month festival would focus on healthy, low-carbon transportation with the goal of showing residents how they could use carpooling, public transit, e-bikes, cycling and walking and identify how to make safer active transportation.
"It's like bike-to-work week on steroids," Singh said.
Singh's other ideas include:
• establish 24/7 crisis outreach teams;
• bringing together local representatives from all levels of government to work together on community safety;
• Funding for a citizens' assembly on housing supply and affordability, including recommendations for council to implement;
• involve the town hall in the recruitment of health professionals;
• encourage expansion and commercial attraction that add to the city's tax base, such as a partnership between a film studio and the Regional District of Thompson-Nicola;
• Create a business case for building a community center for youth and seniors, similar to the John Brathwaite Community Center in North Vancouver.
Singh is among four people to announce their candidacy for mayor after Mayor Ken Christian announced on Family Day that he would not seek re-election. Businessman Ray Dhaliwal, advisor. Dieter Duty and businessman Reid Hamer-Jackson also said.