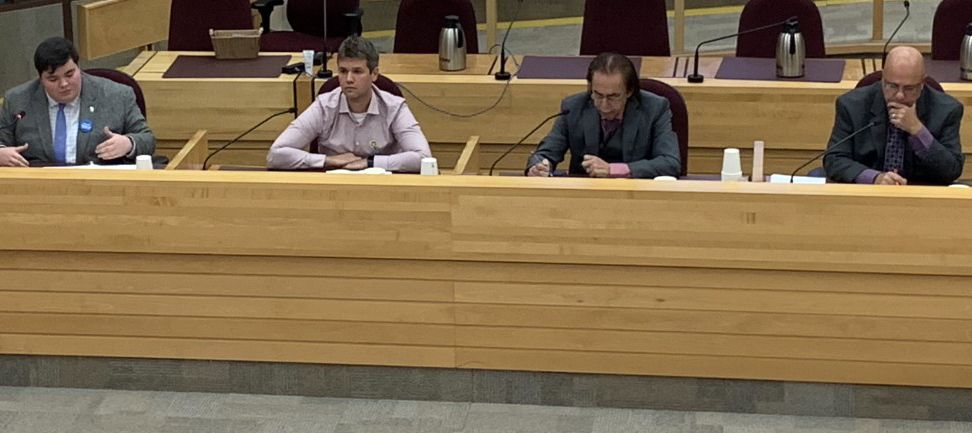 Ward 4 candidates seek ideas to grow Sault's economy
The All Candidates Forum was co-hosted by the Sault Ste. Marie Chamber of Commerce and Algoma University.
Content of the article
Marek McLeod has a plan to support businesses.
Content of the article
It's about developing the local workforce by making the community affordable for everyone to live in.
To do this, the city must work with Sault College to support its trades programs and in particular those where there is a demand for jobs.
The city must also help empower entrepreneurs by creating a one-stop shop to help businesses complete grant applications to help their business grow and thrive.
"That must be our goal," he said.
McLeod set the tone from the start of the Ward 4 All-Candidates Forum, co-hosted by the Sault Ste. Marie Chamber of Commerce and Algoma University.
Ward 4 candidates include Marchy Bruni, David Celetti, Stephan Kinach and McLeod.
The All Candidates Forum was co-hosted by the Sault Ste. Marie Chamber of Commerce and Algoma University.
Content of the article
Kinach countered that the city needs to attract new industry to complement Algoma Steel and Algoma Tubes.
"We have tourism, but only in the fall and the train is finished now," he said.
Kinach said city council needs to lobby the provincial and federal governments to support new businesses and industries in Sault Ste. Married.
"One of the biggest developments is the Ring of Fire and we should take advantage of that," he said. "Everything that comes out of the mine should go to Sault Ste. Marie", be treated and leave the community by sea, road or air.
Celetti's plan is to invite any company or industry that complements Algoma Steel and Algoma Tubes to Sault Ste. Marie, show them available land and offer them a five-year tax break if they employ more than 300 people.
Content of the article
Additional incentives should allow these new companies to benefit from savings of 50% on water and electricity tariffs for five years.
"All industries in the world would want to set up shop here," Celetti said.
Bruni said the city is working hard in its economic development efforts and continues to promote partnerships through various programs and organizations.
Sault College and Algoma University are economic engines in the community by attracting international students here. Bruni said the council has supported each with a $100,000 investment in each post-secondary institution for a three-year period.
He also believes that the city's natural beauty, cultural events, trails and parks should be better promoted to create more tourism.
Content of the article
The candidates also weighed in on roads and public transport.
"Roads and streets are an age-old matter," Celetti said. He wants to see the city buy a skimmer and skim four streets in each neighborhood each year, reusing the asphalt to provide a finish coat on each. It also recommends that one additional street in each neighborhood undergo a complete infrastructure overhaul.
"In 10 years, all the streets would be finished," he said.
Bruni agreed that the roads needed to be improved and although the city spends $16 million a year on its road budget, it needs to increase it to $25 million. The city needs to lobby higher levels of government to raise the gas tax to do this, he argued.
The city is in the process of renewing its transit fleet and once complete, maintenance costs will be reduced, he said.
Content of the article
Bruni wants to see specialized transportation services like the adventure bus to Pointe des Chênes and Hiawatha extended to other areas and used for various cultural and community events.
McLeod said the key to improving safety on city streets is reducing speed with calming measures like implementing narrow streets and adding speed bumps and bike lanes.
The city needs to invest in its roads by investing in the right building materials and putting more money into them without saving in the long run, he said.
Kinach said the city's elderly population was growing, but the existing parabus system was not meeting demand and needed to be expanded.
He said parking is also key in the design of the city and the city needs to add green infrastructure to the grounds, including electric car chargers and bicycle parking.
Improvements also need to be made to red light timing, a huge problem across the city where vehicles often sit at lights for a long time.
Kinach said he also wants to focus on increasing transit ridership, which, in turn, would provide more federal government funding by reducing the carbon tax.
The municipal election is on October 24.