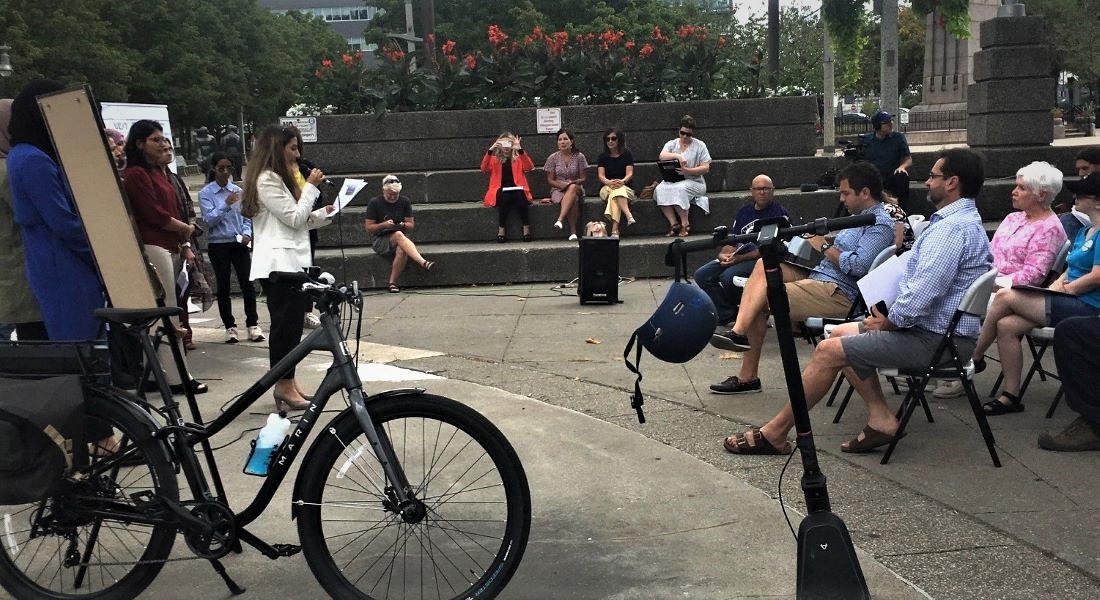 Young Women In Motion shares ideas to improve bike-friendliness with municipal candidates | newswindsoriteDOTca
Young Women in Motion – Breaking Barriers with Bikes shared their unique insights and ideas on how to create a more women-friendly city in Windsor during a presentation and discussion with all candidates vying for the City of Windsor election in Charles Clark Square on Thursday .
The group is made up of young women from newcomer and racialized communities led by Women's Enterprise Skills Training of Windsor, Inc. (WEST) in partnership with Bike Windsor Essex. Mentoring teams and experts have been mentoring the 20 young women since May to help them develop their confidence, mobility, cycling skills and ability to make meaningful recommendations to city planners.
Young Women in Motion participants Ishita Bhatia and Obaida Dabaja announced seven recommendations calling on future city leaders to widen existing bike lanes, add warning lights for cyclists on bike lanes that suddenly end, have one day per month for the roads to be reserved for cyclists. , create barriers separating walkers from cyclists traveling on riverside paths, create car-free lanes for students traveling to the University of Windsor, create a safe lane with Wyandotte barriers at Devonshire Shopping Center to allow women to do their shopping by bicycle and increase bicycle parking at the Devonshire Shopping Centre.
Recommendations were based on participant observations, in-person sessions with one of Windsor's leading voices for cycling in Windsor: Lori Newton, Executive Director of Bike Windsor Essex, and research shared with them on Zoom calls with Kay Teschke, professor emeritus. The University of British Columbia (UBC), whose Cycling in Cities research program, has studied road infrastructure that encourages or discourages cycling and increases or decreases the risk of cycling injuries. And Dr. Anne Lusk of the Harvard T. Chan School of Public Health researches comfortable and safe environments for women, children, the elderly, parents, people of color and low-income people.
"There is only one woman among the ten members of Windsor City Council. Therefore, it is crucial to keep women's perspective in mind when creating new laws and regulations," said participant Ishita Bhatia.
On August 31 at 5:00 p.m., the Young Women in Motion will celebrate their achievements with a ride departing from Bike Windsor Essex in Walkerville and traveling along the waterfront path to the Ambassador Bridge on the refurbished bikes they own. Women and girls who wish to join the ride are welcome to participate.