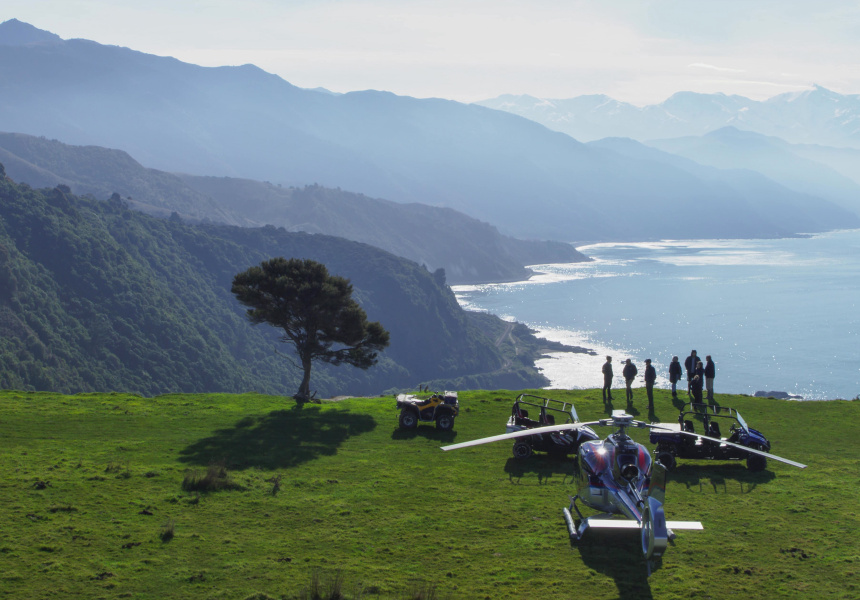 Your Christchurch Day Trip Guide
Christchurch Art Gallery – Te Puna o Waiwhetū
Christchurch has always been a cultural hub on the South Island, so it makes sense that the island's largest art gallery is located in the Garden City. Opened in 2003, visitors are greeted here by an imposing glass facade inspired by the River Avon, acting as a mirror of the city. A large sculpture, Reason for travel by Graham Bennett and David Cole, sits in the forecourt, setting the tone for a journey through the artistic and cultural history of Christchurch and beyond.
Exhibits change regularly, complementing an extensive permanent collection covering local and international works dating back over 200 years. Plan your visit before October 16 to see Māori Moving Image ki Te Puna o Waiwhetū, an engaging showcase of video, film and animation works by Māori artists (and some karaoke) that centers the lived experience of Māori and their hopes for the future.
No gallery visit is complete without a visit to the gift shop. Stop by the Design Store, filled with creative crafts – from jewelry to books, clothes to posters, and more – all inspired by the gallery's artwork. The gallery is open seven days a week from 10 a.m. to 5 p.m., with guided tours led daily by volunteers. Free entry.
Guided Bike Tour with Chill Explore Tours
Cyclists rejoice, as Christchurch is the only flat city in the country – making it the place to go if you want a guided bike tour of a city.
Chill Explore offers a range of tours, from the CBD to the beach, and even the pub. To get your bearings, start with a 2.5-hour Urban Explorer bike tour. You will travel 10 to 12 kilometers, visit cultural sites and observe the city's revitalization after the earthquakes up close.
If you're looking for a longer ride, book the 36-kilometre City to Sea and Soak tour in New Brighton, with a reward of a swim in the new He Puna Taimoana hot pools by the beach at the end. Another option is a private 3.5-hour food and wine tour to sample local Christchurch produce, stopping at Dux Central for a tasting platter followed by local wine or craft beer.
If you want to explore the famous parks and gardens on offer, the Garden City Tour is for you. This is a 12 to 15 kilometer tour of Christchurch's top botanical sites including Hagley Park, the Avon River Trail, Mona Vale and Riccarton House. If you want to explore independently, you can also hire bikes and related equipment from Chill Tours.
Panoramic flight with GCH Aviation
The scenic beauty of Christchurch and the diversity of landscapes that surround it are best seen from the air. A quick helicopter ride will give you unforgettable views of the snow-capped Southern Alps, the patchwork quilt of the Canterbury Plains and the remnants of the Banks Peninsula, an ancient volcano. The shortest flight starts at 20 minutes, but you can book longer flights which have the option of stopping at a winery for lunch and wine tasting (choose between Black Estate or Waipara Hills) or Middle Rock Station for a farm tour followed by lunch. If you are looking for something romantic, consider the Love Is in the Air flight. A one-hour trip designed for couples that takes you over the hills of Port, landing on Mount Herbert for a glass of local wine. If you really want to be adventurous (and aren't easily distracted by the scenery), book a test flight – where you get behind the wheel for an introductory flight with an instructor.
Take a tour with Canterbury Trails
Anyone can drive and call it a tour. But that's not the same as Canterbury Trails offers through luxury minibus tours, with expert commentary from local guides. The full-day tour really covers all the sights, from the CBD, Cathedral Square, Botanic Gardens and the Tannery shopping district (a hub of boutiques, craft stores and independent outlets of food and drink) before cruising to a stunning view point in the Port Hills. Along the way, you'll hear about the city's resilience and rebuilding after the 2011 earthquake.
Canterbury Trails tours vary from tour to tour, but options include kayaking, cruising with endangered Hector's dolphins, visiting a working farm or just relaxing with a picnic. picnic on a peaceful hill. If you're a cheese lover, you'll be happy to know that a cheese factory visit is built into most itineraries.
Black Cat Cruises
This special three-hour trip with Black Cat Cruises takes you in the water with endangered Hector's Dolphins in Akaroa Harbor, for an ecotourism experience you'll never forget. Strict eco-guidelines mean you can't touch the dolphins and all interactions are guided by them – all you have to do is spend two hours in the water. The breed is renowned for being playful, so you might be treated to an underwater acrobatic show. If for some reason the dolphins don't make an appearance (which only happens three percent of the time), you'll receive a 50% refund or the option to rebook for a different day.
This article is produced by Broadsheet in partnership with Christchurch NZ.